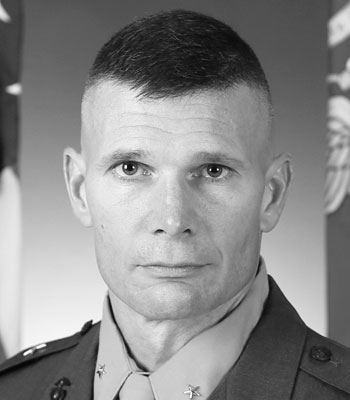 Brigadier General Mark Clingan
Asst. Dep. Commandant to Combat Development and Integration and Dep. Commanding General
Marine Corps Combat Development Command
Brigadier General Clingan enlisted in the Marine Corps Reserve in 1989 and deployed to Operations DESERT SHIELD/STORM in 1990-91 with the 4th Civil Affairs Group. He was commissioned in 1993 through the Naval Reserve Officer Training Corps program after graduating from the American University with a degree in International Studies.
As a company grade officer, his operational assignments were Rifle Platoon Commander and Company Executive Officer, 2d Battalion, 1st Marines 1994-97; and Weapons and Rifle Company Commander, 3d Battalion, 3d Marines 2001-03 (Operation ENDURING FREEDOM – PHILIPPINES 2003).
As a field grade officer, his operational assignments were Operations and Executive Officer, Headquarters Battalion, 2d Marine Division 2006-07; Operations and Executive Officer, 3d Battalion, 6th Marines 2007-08 (Operation IRAQI FREEDOM 2007 & 2008); Current Operations Officer, G-3, 1st Marine Division (Forward) 2010-11 (Operation ENDURING FREEDOM 2010-11); Battalion Commander, 3d Light Armored Reconnaissance Battalion 2011-12 (Operation ENDURING FREEDOM 2012); G-35, Future Operations Officer, Marine Forces Europe and Africa 2014-16; and Assistant Division Commander, 3d Marine Division 2018-20; and Chief of Staff, III Marine Expeditionary Force 2020-21.
His supporting establishment assignments include service as an instructor at The Basic School (TBS) 1997-2000, again as the Director of the Warfighting Instructor Group 2009-10, and a third time as the Commanding Officer 2016-18.
His joint duty assignment was as the Operations Officer, United Nations Command Military Armistice Commission, Republic of Korea, 2003-05.
Brigadier General Clingan currently serves as the Assistant Deputy Commandant to Combat Development and Integration and Deputy Commanding General of Marine Corps Combat Development Command.
His professional military education includes: TBS Basic Officer Course (General's Honor Roll) and Infantry Officers Course; Amphibious Warfare School (Distinguished Graduate); Weapons and Tactics Instructor (WTI) course; Marine Corps Command and Staff College (Distinguished Graduate with Masters of Military Studies); Naval War College, (President's Honor Graduate/Highest Distinction with Masters of Strategic Studies).