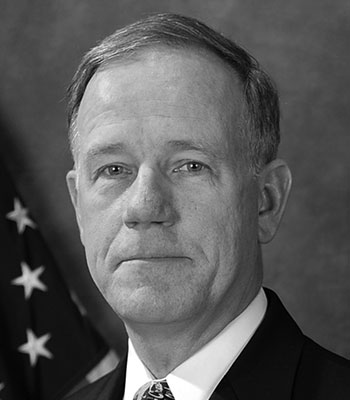 James Gough
Head, Transportation Services Branch, Logistics Services Directorate (G4)
U.S. Marine Corps
James Gough became the Transportation Services (TS) Branch Head in January 2005. Mr. Gough holds Master of Science Degrees in National Resource Strategy (Eisenhower School, National Defense University) and in Information and Telecommunication Systems Management (Capitol College) and a Bachelor of Arts Degree in Education (University of Michigan). In addition, he has attended numerous executive level training sessions (e.g. LOGTECH (University of North Carolina), Executive Lean Six Sigma and the Marine Corps Logistics Education Program at Pennsylvania State University).
Mr. Gough was commissioned a Second Lieutenant in the Marine Corps through the Naval Reserve Officer Training Corps in May 1980. His early career encompassed numerous command and staff positions at 3rd Tank Battalion and on recruiting duty. In May 1989 Mr. Gough was again assigned to 3rd Tank Battalion where he assumed command of B Company and deploying to Saudi Arabia as part of Operations Desert Shield/Storm. In June 1992 he took command of the Military Entrance Processing Station, Montgomery, Alabama where he lead the combined Joint military and civilian workforce in testing, evaluating and accessing new recruits into the Armed Forces.
Mr. Gough was assigned in August of 1995 to the Marine Corps Combat Development Command where he led multiple studies determining systems integration issues associated with warfighting capabilities. These studies identified systems requirements in accordance with the Joint Capabilities Integration and Development System and aligned with the Planning, Programming, Budget and Execution process.
In July 2000, Mr. Gough became the Program Manager of an Office of Naval Research and Marine Corps Systems Command sponsored Expeditionary Energy Program examining the technical feasibility of man portable and onboard vehicle power generation. In addition, he led an effort facilitating the USMC Logistics Modernization implementation concept and supported the Information Assurance requirements of the concept's information technology enabler, Global Combat Support System - Marine Corps.
In January 2005, Mr. Gough re-entered Federal Service as the TS Branch Head/ Commercial Vehicle Fleet Director. As such, he develops fleet operations policy and procedures, develops material requirements, Program Objective Memorandum initiatives and oversees the execution of funds for the procurement and leasing of over 13,000 end items valued at over $260M. He has developed an aggressive plan for the electrification of the commercial vehicle fleet and increased alternative fuel use in close coordination with GSA, DOE, DOT, and other Departments and Agencies. The execution of strategies addressing operations efficiency with increased alternative and future fuels has garnered the Marine Corps multiple awards for energy and operation efficiency while supporting operating forces on installations world-wide.