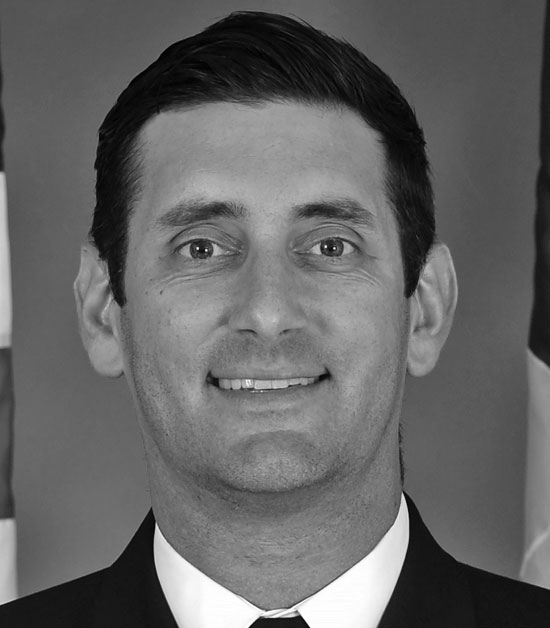 Lieutenant Commander Ryan Camasso
Integrated Product Team Lead of the Common Mission Computing and Displays Team, PMA-209 NAVAIR
U.S. Navy
Lieutenant Commander Camasso is a native of Southbury, Connecticut. He earned a Bachelor of Science in Mechanical Engineering from Norwich University in 2008, following which he was commissioned through NROTC. LCDR Camasso earned his "wings of gold" in March 2010 and completed initial training as a MH-60S pilot in November 2010.
LCDR Camasso is currently serving as the Integrated Product Team Lead of the Common Mission Computing and Displays Team under PMA-209 NAVAIR. His team is chartered with providing common open systems as government-owned solutions using MOSA principles that can be leveraged across the NAE.
LCDR Camasso reported to the "Blackjacks" of Helicopter Sea Combat Squadron (HSC) 21, San Diego, CA for his initial sea tour. Between 2011 and 2014 he deployed three times to the Joint Special Operations Task Force-Philippines and on the USNS Mercy performing the humanitarian mission to Southeast Asia. Additionally, proudly served as part of the Naval Air Ambulance Detachment (NAAD) executing the MEDEVAC mission in support of Operation Iraqi Freedom and Operation Enduring Freedom.
In April 2014, LCDR Camasso reported to NAS Patuxent river, Maryland for his next assignment with Air Test and Evaluation Squadron TWO ONE (HX-21) where he worked as the Safety and NATOPS Officer.
In the Summer of 2015, LCDR Camasso was selected to attend the U.S. Naval Test Pilot School (TPS) at NAS Patuxent River, Maryland, graduating with Class 150 in December 2016. Following TPS graduation, he reported to Air Test & Evaluation Squadron TWO FOUR (UX-24) where he served as an MQ-8C project officer working Envelope Expansion, Littoral Combat Ship (LCS) Dynamic Interface (DI), and various other MQ-8C system and performance upgrades. During this tour, LCDR Camasso completed a Master's of Science degree in Aerospace Engineering from the Naval Postgraduate School.
LCDR Camasso reported to his department head tour in February 2020 with the "Sea Knights" of Helicopter Sea Combat (HSC) 22, Norfolk, VA. He was the officer in charge of a 5-month deployment aboard USS SIOUX CITY (LCS-11) operating in 4th Fleet. Additionally, he served as the squadron's Maintenance Officer and Training Officer.

LCDR Camasso's awards include three Navy Commendation Medals, one Naval Air Medal, one Navy Achievement Medal, and various other joint, campaign, and unit awards. He has over 1,700 flight hours in the H-60 and various other T/M/Ss.